Taking Care of your Marble Floor
When we say 'marble floors', we are including all-natural stone or calcium-based stone floors such as limestone, travertine, crema marfil and terrazzo. Marble floors add elegance to any home and can last as long as the home itself, but if you are reading this article you will know they can be difficult to keep clean and retain their shine. This is due to its porous nature. Marble is porous, and all spills will seep through the stone, leaving stains and marks that can only be removed by polishing. Sealing your marble offers a first line of defence. The sealer fills in the pores, keeping any spills on the surface. With this, spills can still penetrate the stone so be sure to wipe up any spills as soon as possible.
Dealing with Acidic Spills
Acidic spills are your worst enemy (such as fruit juice, wine, vomit and urine). Acid-based cleaners will burn right through your marble. Marble is generally sealed with a penetrating seal, which won't alter the appearance of your marble. It is not however a magical solution and will only give you seconds to wipe up a spill before it penetrates the stone. There is unfortunately no better solution on the market. Topical seals are generally used in commercial areas where traffic is very high, or on a very porous limestone or travertine floors. The topical seal is like a top coating painted onto your marble surface. It increases your protection from acidic spills. It will however change the appearance of your stone, leaving a high gloss finish.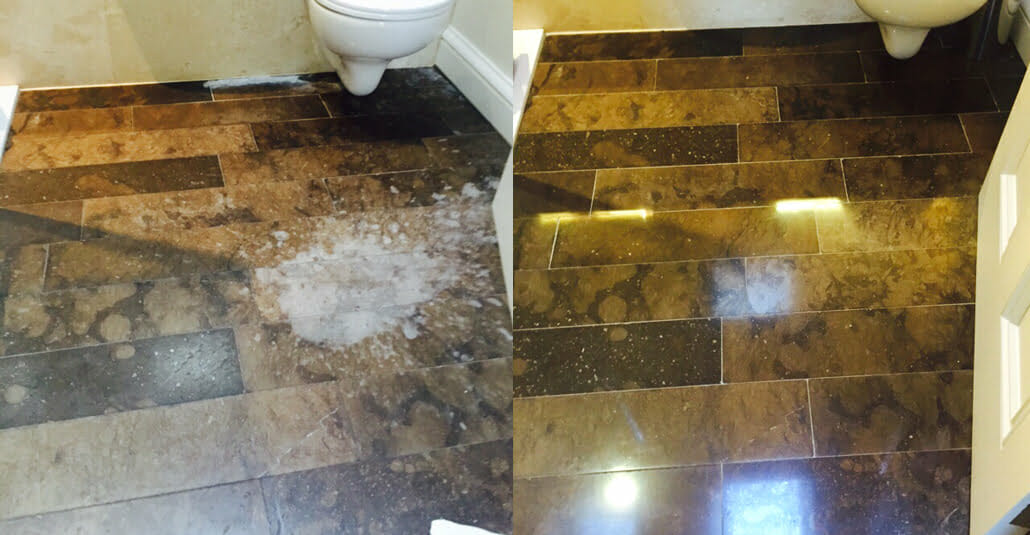 Before and After; Bleech spilled on marble floor, cleaned and polished
Sealing a marble floor
All seals wear down with time and need to be replenished. How quickly they wear down depends on your daily maintenance, traffic (children & pets are lethal) and UV light will break down your seal. Once your seal is worn, everything will seep into the stone and cause staining. Acidic spills will etch your marble, which removes the shine and leaves a rough feel on the surface. You should re-seal your marble before the seal has worn down.
If you follow a rigorous maintenance routine and traffic is not too heavy (your children are angels and your pets wear socks), you can get between three and five years out of a penetrating seal. Generally, however a penetrating seal will need to be replaced every one or two years. Marble with a topical seal decreases maintenance but can lift if furniture is dragged across it and would definitely need to be replenished once a year. A good way of testing to see if your seal has broken down is by pouring some water on your tile and leave it for a minute. If the stone changes colour or water disappears this means there is nothing protecting your floor.
Cleaning and re-sealing your marble floor
Firstly, remove all remnants of your existing seal before it has completely worn away. The chemical you use to strip the seal must be from the same manufacturer. If you don't know this, you may need to do a few trials. Apply the chemical according to the manufacturer's instructions. Generally, you apply using a roller or sponge and the solution will need to be agitated (using a black pad) and left to penetrate for 15 minutes. Using a clean mop, wash your floor with a pH neutral stone soap cleaner. If your marble is etched, you will need to polish out the etch marks and the method required depends on your stone. We would recommend calling in the professionals if this is the case (P Mac can be contacted here). If your marble is scratched, you will need to grind the stone. At this point, we would definitely recommend you call the professionals! Buff your marble dry with a clean white soft cloth. Once you are happy your floor is perfectly clean and dry, you can now re-seal your floor. This is best applied using a roller, sponge or lamb's wool window mop. Ensure the entire surface is completely covered evenly. A penetrating seal will dry out pretty quickly and once dry is ready to use. We recommend light traffic only on the first evening, no shoes and protect against water for 24 hrs. If sealing with a topical seal, you must ensure your stone is completely dried out. It's probably best to leave it overnight before applying the seal.
Before and after: etched black limestone floor, cleaned and sealed by P Mac
What products to use to clean your marble floors?
We find the Lithofin range of marble cleaners and sealers most effective. Especially if carrying out the work yourself. They are available in most good tile shops.
How to clean your marble floors on a regular basis?
Ensure you have mats inside and outside your entrances! Dust daily with a dry mop or vacuum (dust more often in high traffic areas). Wet mop with a pH neutral stone cleaner diluted in warm water once a week. We recommend StoneSoap. Rinse with a separate mop until all remnants of the soap is removed. Buff dry with a white cloth.
P Mac Ltd offer a professional and reliable cleaning service for your public and outdoor areas. More information on their services can be found here.
A recent marble floor cleaning project by P Mac Ltd at City Hall, Dublin
This article was kindly provided to TradesConnect.ie by Adrielle Correa; Marketing Executive of P Mac Ltd